At Amicum, our Sales and Marketing team are specialists in the Retirement Living industry, and they work exclusively within that sector.
This ensures that our insights are unique, our services are tailored to suit your specific needs, and the results we achieve are exceptional.
Our personalised approach to clients — including our "no sale, no fee" policy — sets us apart from competitors, and our expert knowledge of the industry's workings is what puts us ahead.
Let us help you successfully navigate the Retirement Living landscape and achieve the best results possible.
Our Point of Difference
Choosing the right company to work on your project is a critical decision to the project's success; teams of employees need to work successfully together in order to achieve positive outcomes. Before you make your decision, here are some important things that set us apart from competitors: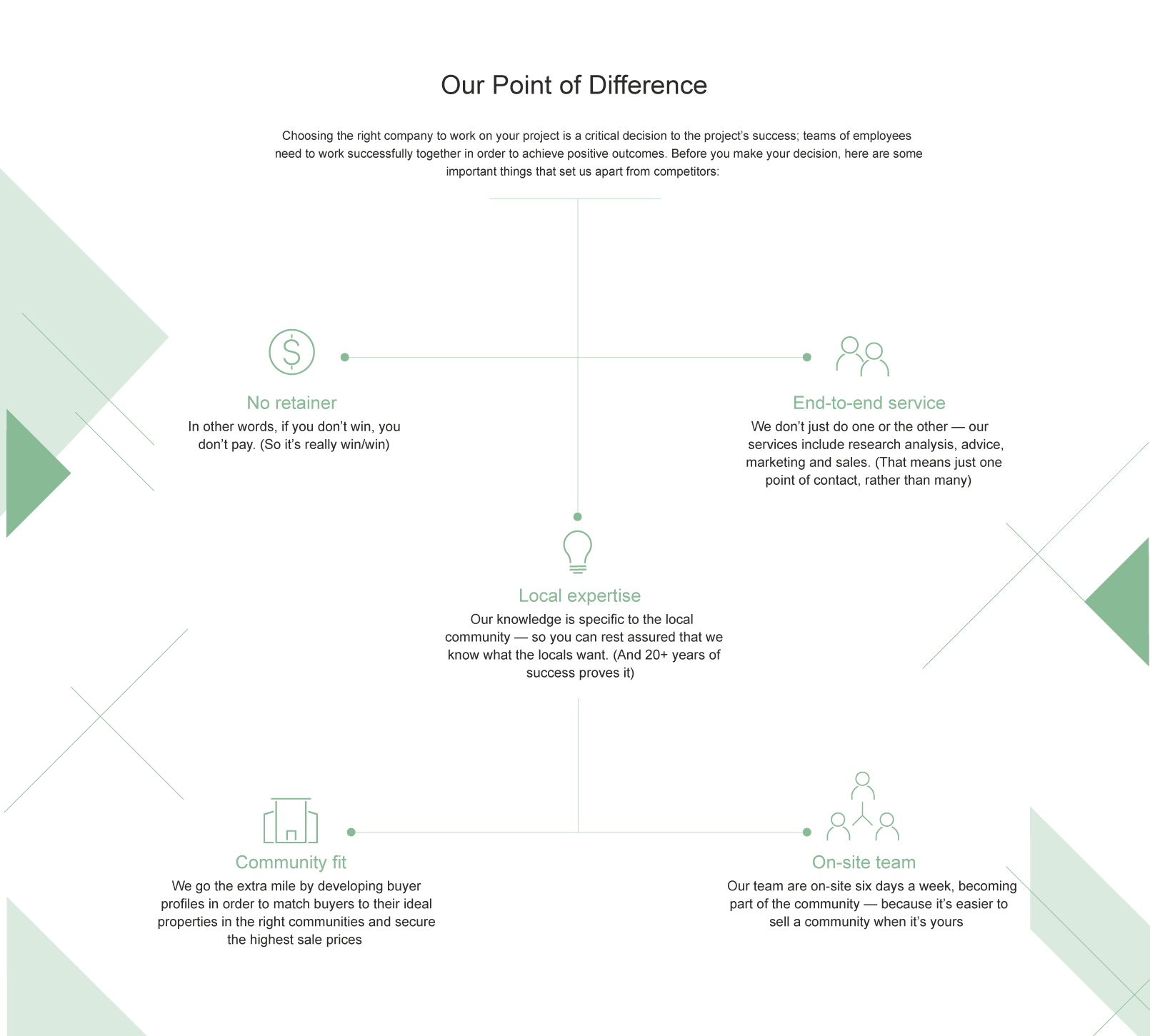 Our Services

Reviewing and
optimising your
current sales and
marketing process

Establishing
project viability
and local insight

Documentation
and sales advice

Marketing
strategy and
implementation

Achieving efficient
pre-sales
(with minimal risk)
KPI-Driven
At the heart of any great partnership, you'll find a win-win. So we've taken an approach that guarantees one.
We call it Fee Lag.
For new projects, it means you don't pay a cent until you receive your funds at settlement. And for established villages, it means no retainer in sight and zero overheads on your P&L.
It adds up to the leanest, most focused, KPI-driven sales team imaginable. And a win-win, guaranteed.
Game-Changing Local Insight
The success of any Retirement Living project comes down to meeting the market on its terms.
With over 20 years' experience selling retirement villages, we come loaded with insights — across past transactions, upcoming projects, and competitors. Plus, we truly know what matters to locals.
Systems that Sells
Whilst critical, salespeople are only one part of a winning formula. Equally important are the systems wrapped around them.
Amicum implements a proven process that sets you up to win right from the start.
It ensures a sales model and pricing structure that fits the market, a value proposition that maximises appeal, and best-practice marketing tactics that optimise ROI across the customer journey.
The Personal Touch
Underpinning the personal touch is our Community Connect policy, which sees our team in the local area and on-site, becoming part of the community — because it's easier to sell a community when it's yours.
Our specialised salespeople receive ongoing advanced negotiation training.
Waldreas Retirement Village
Ringwood, Victoria
From day one we assisted in creating Waldreas Retirement Village's success story. All the way from land purchase, design and development, through to the successful sale of all units and subsequent resales.
The Mornington Village
Mornington, Victoria
Amicum was appointed to assist The Mornington Village with the sale of both their new and resale units . Not only did we assist in the strategic rebranding and repositioning of the Village, but we sold all the units and now have trouble keeping up with demand for resale units.